I've been working on (and posting
here
) a little Romanian army project which ended up not so little! One of the units I decided to model was a squad of Romanian Paratroopers. However in researching these, I found myself getting sucked more and more into the (limited) history of them. Basically they only fought after Romania changed sides against the Germans in and around Bucharest.
And there it would have rested, until I read the blog post here about
Company of Dice's Bolt Action event
, and in particular the description of the British force themed on one that defended an Airfield in Iraq. Because you see the Romanian Paras defended airfields around Bucharest from German assault... well I just couldn't help myself, could I?
The Romanian paratrooper battalion uniform was the big problem. There's very few photos of them, and all are black and white! What is known is that their regular blue uniform was too like German ones so they fought in their one-piece jump suit. (See group photo) Additionally at some point they discarded their grey Fallschrimjaeger type helmets as local civilians stoned them thinking they were Germans! So they wore the soft airforce cap as seen in the group photo. (As can be seen from the solo picture they had dark blue airforce berets too.)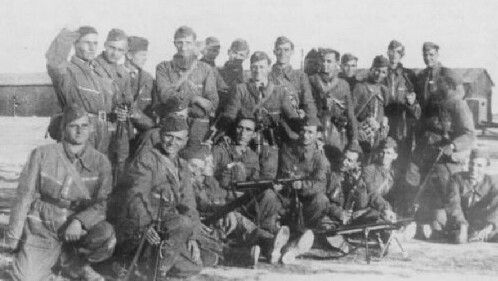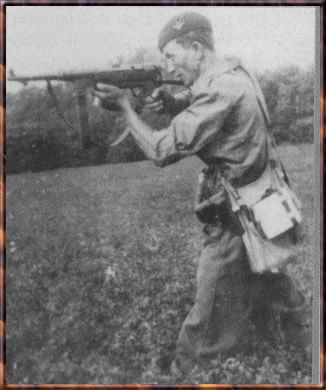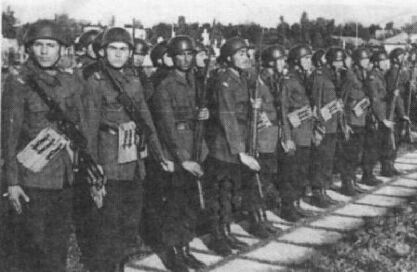 Osprey's Army of Romania book has a colour plate showing the paras in all-blue jump suits. Blue helmet, blue bag, blue everything. Well that will be easy:

Turns out however, that this is wrong! A Romanian site (
http://www.traditia-militara.ro
) indicated Khaki was the correct colour for the jumpsuit. Re-enactors pictured here had a greenish type one on. So that must be right?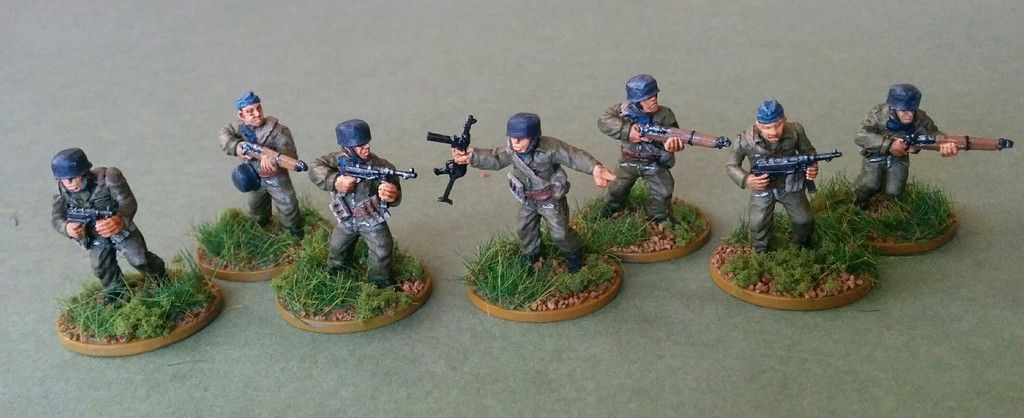 Nope. Going through the Tradita Militara discussion board (in Romanian with Google Translate assisting) I found someone had posted pictures of an actual surviving jump suit. As they said in their post it was terribly faded but in some spots, particularly around the pockets, you could get a sense of the colour. No green here! Even these areas could be faded, but at least we know we're looking at an actual brownish khaki.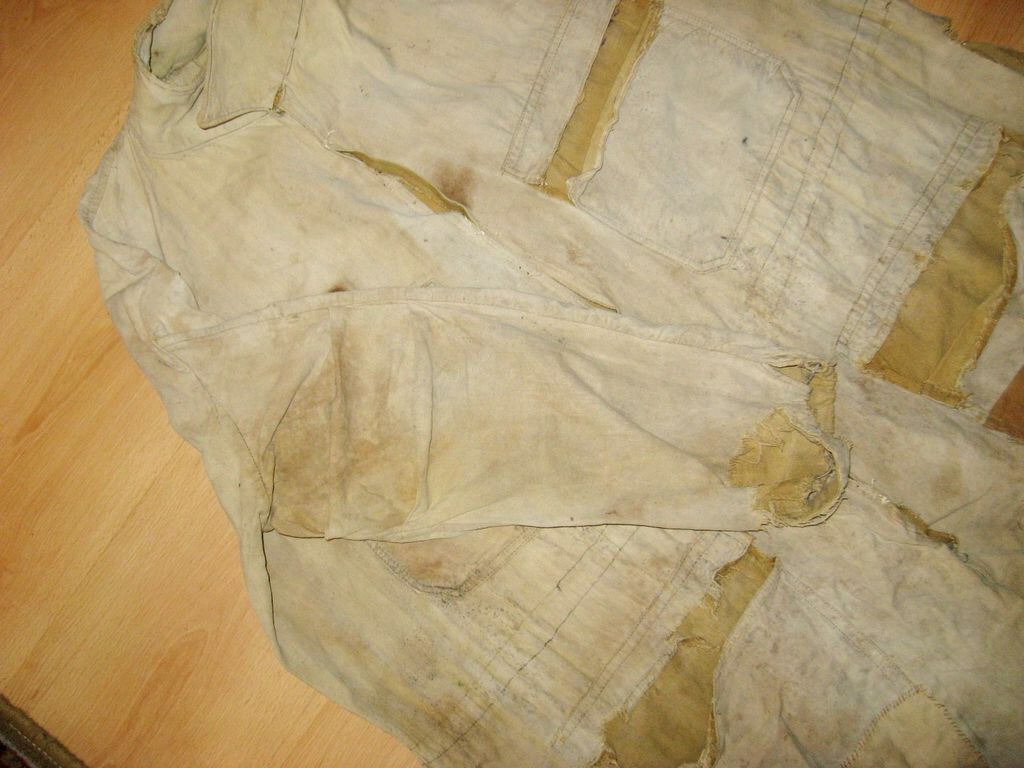 Equipment wise they were lavishly equipped. Lots of MP40s. That platoon photo above has at least 2 LMGs on the ground in front of them. Each platoon had a 60mm mortar, however the heavy weapons company had 81mm mortars and ZB53 MMG's, along with 47 mm Bohler antitank guns. This would give more modelling variety so it's this company my force is loosely based on. They had air support from the Romanian Air force, mainly by fighters intercepting the German Me232 transports as they tried to take the Bucharest airfields. So I opted for a Forward Air Observer. This isn't in the Romanian list but I can pick it as my Axis support option from the German list, as a Romanian proxy.
Armour support was present, provided by a mixed force of Stug III, Panzer IV and TACAM R-2. The last one is properly Romanian, so it had to be that. Obviously as paratroopers, where possible everything is veteran. My 1000pt force is thus as follows:
Veteran 1st Lt + assistant
4 Late-war Squads of Veterans consisting of 1 NCO with SMG, 3xSMG, 3xrifles.
1 "Motorized" infantry Squad of Veterans consisting of 1 NCO with SMG, 6xrifles, 2xLMG.
1 Veteran MMG team
1 Veteran Medium Mortar
1 Regular Light AT gun (Free option; can't be Veteran.)
1 Regular TACAM Tank destroyer
1 Regular Forward Air observer chosen as "Axis support" option.
11 dice and a lot of veteran infantry! The four late-war squads are obviously very set up very well for close quarters action, so I decided to make the 5th one more fire support. (I hope BA ver2 upgrades the LMGs enough to make the two in one squad worthwhile.) These squads do smack a little bit of being "power-gamey" but are historically reasonable. (Indeed I should probably have a higher ratio of SMGs to rifles to be accurate.) Offsetting that is the "wasted points" of a veteran mortar. Also my "free artillery" option is one of the worst I could pick. I could have a heavy AT gun here, but instead I have a light AT gun, and without a gun shield! (All the Romanian Bohler pictures show no gun shield.) Also my TACAM armour pick (Armour 7+, open top, Medium AT gun and no machine guns) is not exactly a great choice in game terms either. So I feel it balances out overall. It's certainly not a typical Romanian army.
But how to make them? The first squad above were modded from Black tree design British tank crew, but I decided Black Tree Fallschrimjaeger might make easier feedstock for SMG infantryi n particular. Models are made with Black Tree tank crew, (British, Russian and US) Black Tree Fallschrimjaeger, heads by Warlord and various accessories and weapons from The Assault group. Lots of grinding, (Thank you Dremel!) filing, fret-sawing and greenstuff was involved too. I opted to leave some of them in their helmets (and some in hats but carrying helmets on their belt) for a bit of variety. I also included a few beret guys, specifically the Lt and a rifleman who just happens to have a telescopic sight. I can use him as a Sniper for variety! They fought in the forests around Bucharest too, hence the woodland feel of the basing.
In their raw state: (Bases are old out-of circulation Irish 2p coins!)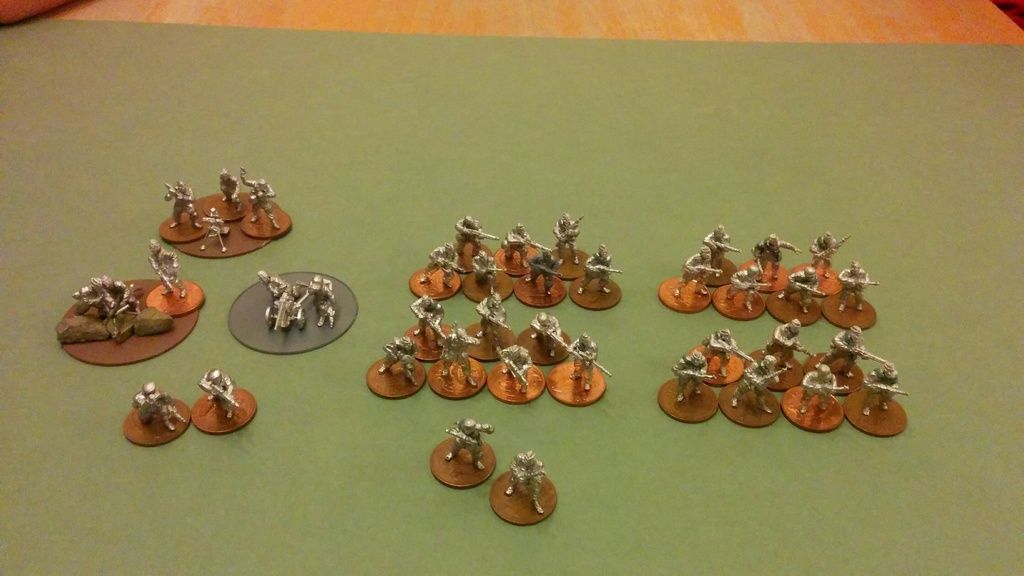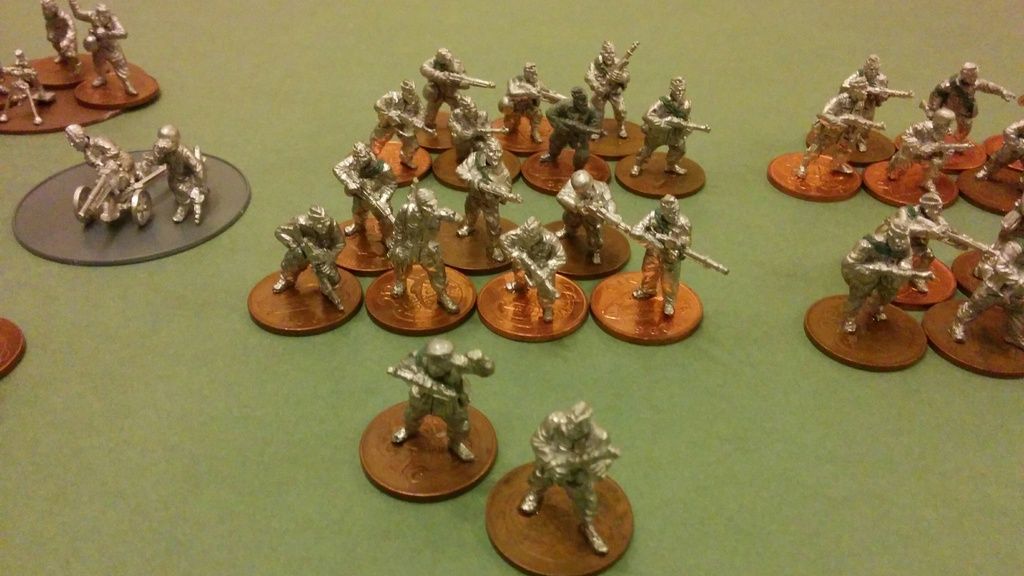 The ZB53 MMG was a challenge. Gun modded from one from a Diecast Marder with scratch-built tripod: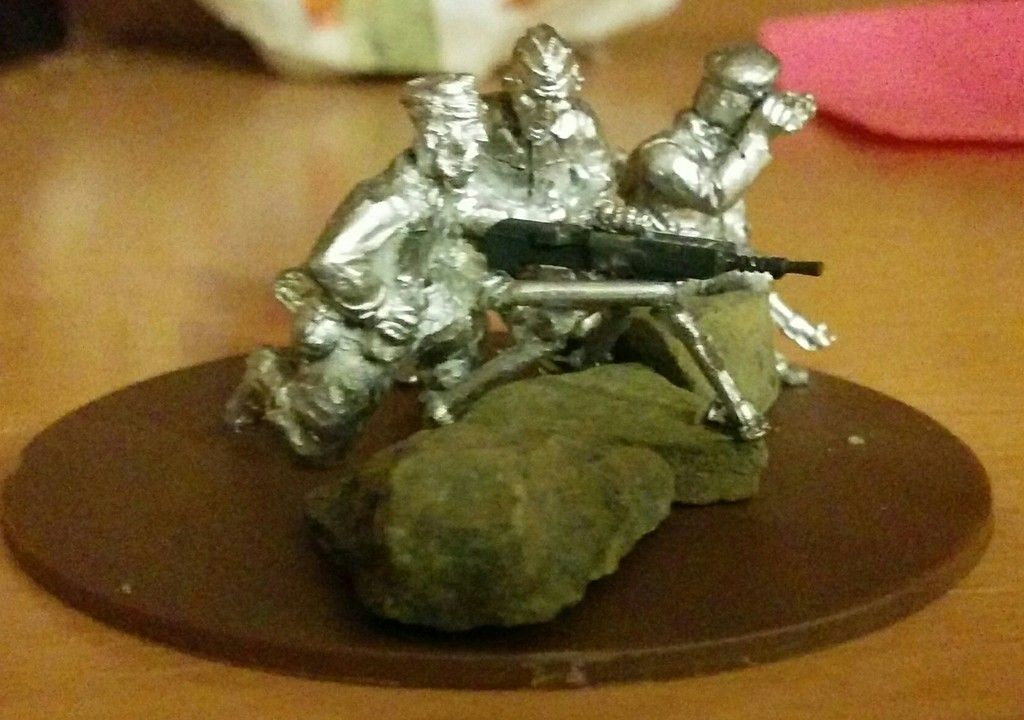 And some close ups of the finished results: (Painted to table-top standard. I'm not a stellar painter, sorry!)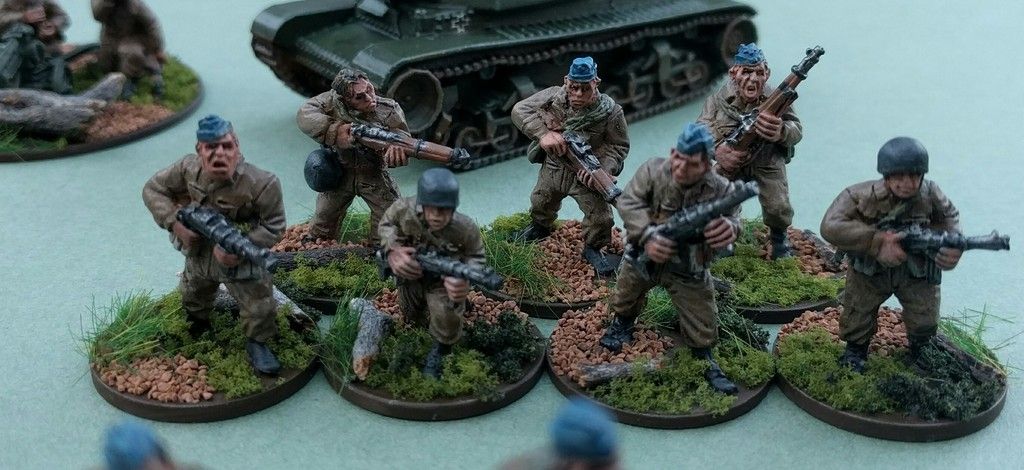 Bohler AT gun from Warlord. (Elefantio Italian gun):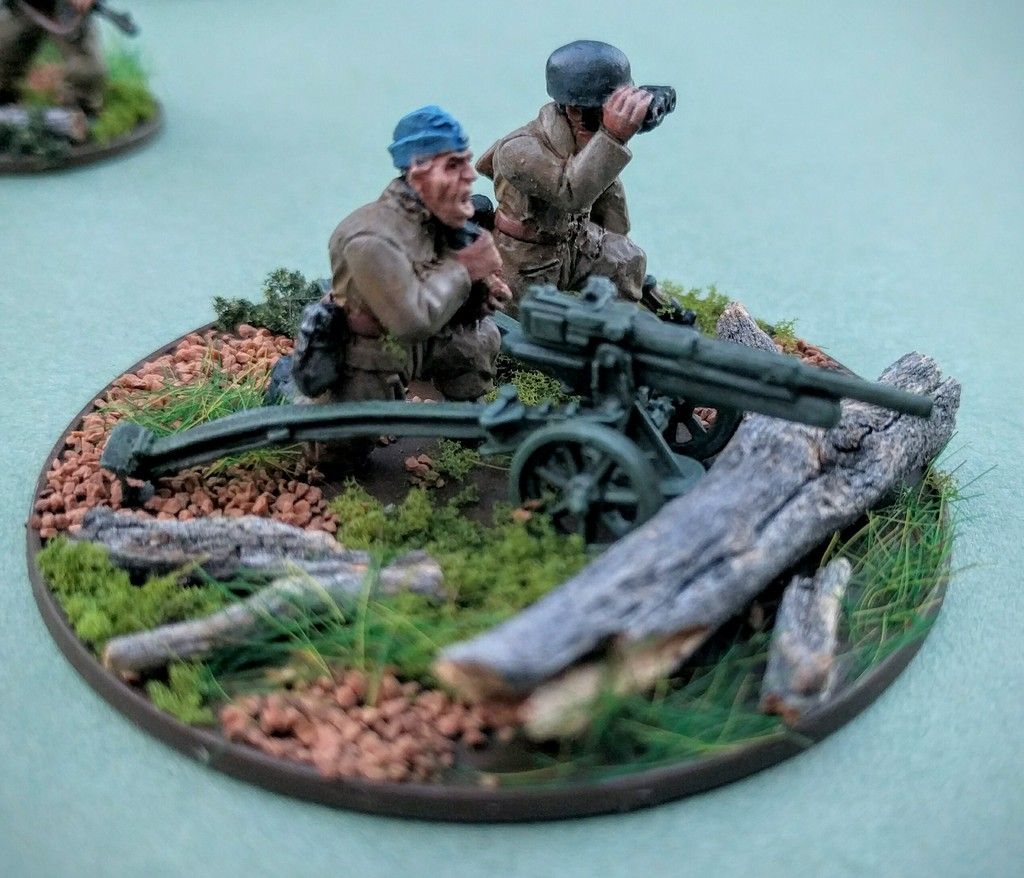 MMG team. (I forgot to highlight the gun! Oh shame...) Spotter is demountable to either partner my Sniper rifleman or to act an artillery spotter. (Another rifleman loaded down with belted ammo will take his place in that case.)
TACAM is from Mad Bob Minatures. The Stuka is an Easy-model one. (Need to repaint those wheel spats green!) I intend to use the Warlord RAF Forward Air Observer model repurposed to a Romanian Air Force one, and have that on order now, so once I have him it'll be done!