So the guy who runs a local gaming convention called DieCon occasionally plays in our little Bolt Action group and was asking for someone to run a tournament this
weekend.  No one else was going to be in town so I got volunteered in army sense of the word.  This led to a frenzy of terrain making in the last couple of weeks,  
However, not much of what I made was actually needed (in these pics only the Ethiopian table and a couple huts are mine) but it should come in handy now that
I have it.   In addition there was a frenzy of actually trying to read the rulebook.  Shocking...
In any case Friday evening was a learn to play event.  We started with 4 people who split up my Italian and Ethiopian forces.  Later on a couple other guys came and
watched us go through the game.
An Ethiopian officer leads an outflanking maneuver.
The Bersaglieri take what ends up being an over exposed position on top of a hill.  In the foreground the askaris move through a false banana plantation.  In the
background the Italian armored car is having a tough time after being hit by Ethiopian artillery.
In the end the Ethiopians won in a landslide, which I found to be gratifying.
While we were playing a young kid stopped for a minute to look on.  I asked if he wanted to stop by later and he gave us what sounded like a sarcastic "yeah, I will".   However he did drop by!
It was his first miniatures game so we just threw a few units onto the table and had at it.  Since he had eaten spaghetti but never any injera, he took on the Italians.
This time there was no artillery....
He had a good time and dropped by to have a look at our tourney battles  a few times on Saturday.
Speaking of the tourney.  We had 5 players so I brought out my Italians so no one had to sit out games.  Armies that people brought were French, Australians, US
Marines and two German forces.  I think the Germans brought 6 half tracks between them! Luckily I we didn't have a Hanomag award to hand out.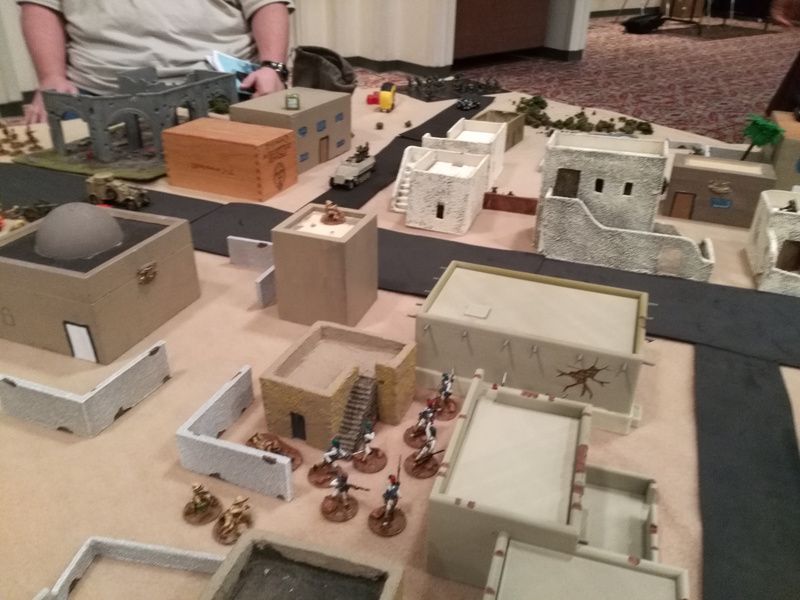 Some Askari move forward while the arty observers try to get into a decent position.  The main group of players only have one friend that brings an observer and
apparently he never rolls well enough to bring the hurt in when and where he needs it.  In a couple turns, my opponent was quite surprised when his forces were
decimated for being too tightly grouped around the white building close to the center of the pic.  
After trudging through a board filled with jungle.  Bersaglieri and Askari look on at the results of another arty strike.  My armored car was hit but not destroyed by the
artillery and heroically run up and onto the bridge to try and stop the Germans from stealing the cattle.  It was promptly destroyed by the captured armored car next to hut.
Some marines moving across Ethiopia and getting ready to win the tournament.  They also got the best painted army award.
I did not win the best able to focus his phone camera award.
Overall, it was a great experience.  Everyone brought cool, well painted armies and I don't think there was any rules arguments and certainly no one asked for me
make any rulings.  Even when I showed off the true power of rolling 6's while bringing in off board artillery, everyone was having a good time.